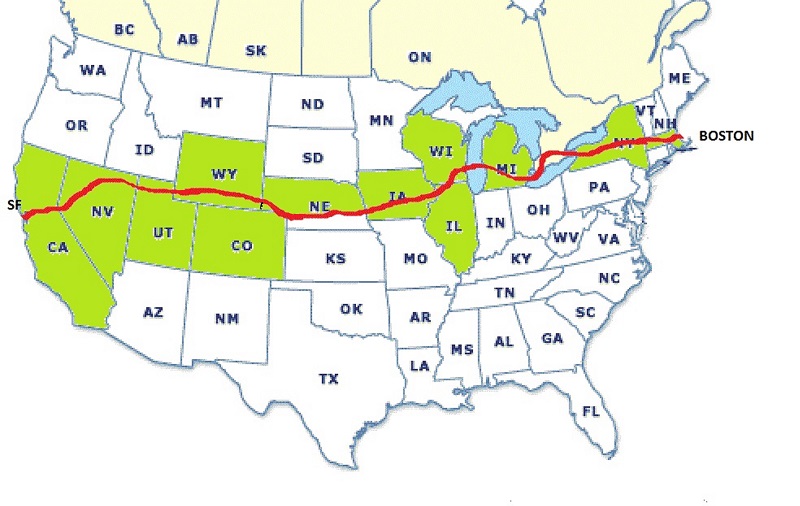 Itinerary 2016
What's it all about?
A solo run across the USA, my fifth coast to coast. I will start on April 19th 2016 in San Francisco and finish in Boston on July 22nd. I'm running with a three-wheeled stroller, a Baby Jogger, where I carry all my baggage. I will overnight in motels, camp out only on the odd occasion.
Why?
A fun adventure. To me it means freedom and happiness and a fantastic way to meet ordinary Americans and see the things tourists never experience; the small towns and the American countryside.
Why five times?
No run has been like the others, always different routes so it won't be tedious. And it's been easier for every run, my routine and experience mean a lot. Running this far and for such a long time is more of a mental than a physical challenge,
How long will the run last?
93 days planned. I run every day, have no days of rest and since the distance is 3100 miles it means an average of 33.5 miles a day, a bit more than my earlier runs.
You talk about "World Record"?
Yes, as far a I know noone has run so many times across the continent. I already keep the record for numbers of solo runs, that is running without a support car. Eight out of ten runners have support, a thing that makes it a bit easier. But even I am going to have a support car this time, but only during the two weeks of desert stages in Nevada and Utah. My brother Jan will drive the car then.
How many people run across the USA?
Statistics is unreliable. From 1909-2002 there are 279 runs documented, many of these runners have taken part in competitions. Every year there are about 5 – 10 who run across the continent, many more do it walking or on bikes.
Are you the oldest one as well?
No, but among the oldest. I'm 68 now but age doesn't matter much. It's more a question of routine and experience, elderly, well trained people can have just as much stamina as younger.
Your last long run?
No, but maybe across the whole of USA.