Kommentarer på Day 96: I made it again â?? for the fifth time!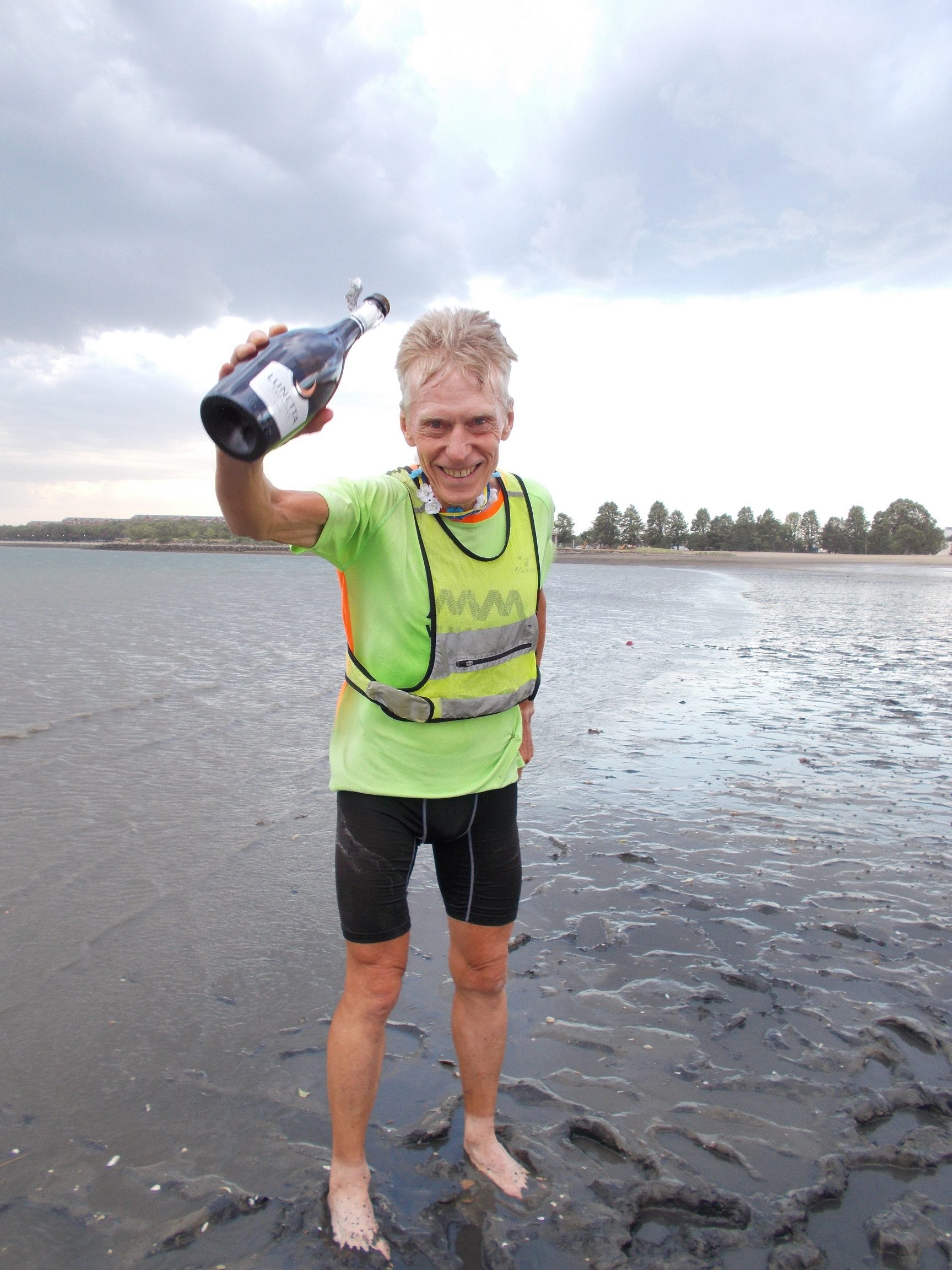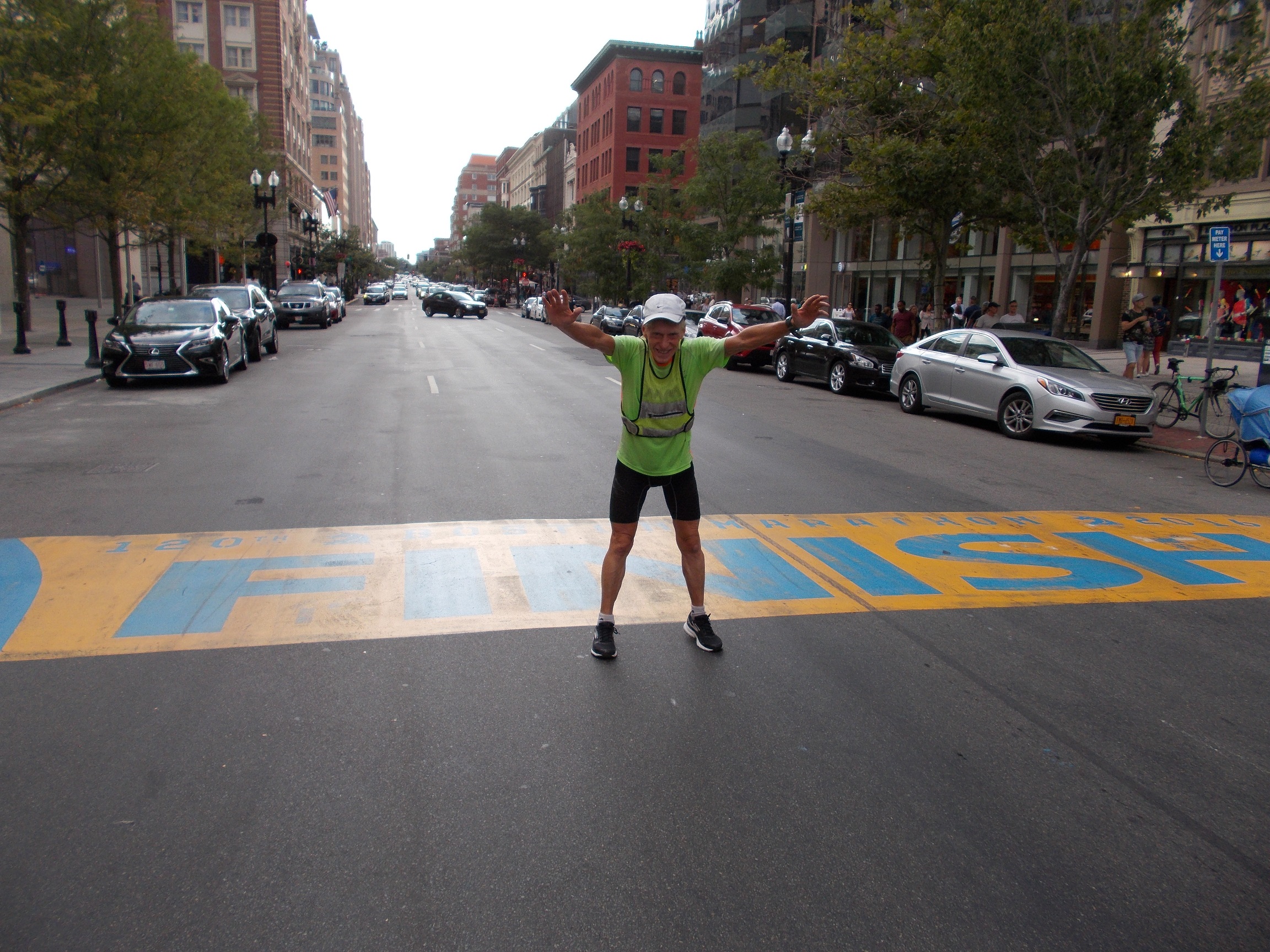 The finish line of the Boston Marathon is reached – then just a few miles remained before I could put my feet in the Atlantic and really end my run.
The "World Record Run" is over. On July 23rd at 19.15 I dipped my feet in the Atlantic after running 96 days and about 3270 miles (5 250 km) from San Francisco to Boston.
World Record? Well, maybe that's too much to say but nobody else has run so many times as I have. And not only that – three out of these five runs have been genuine solo runs, that is to say without a support car – another record in itself. The last two times I have had a support car during a small part of the way, something that most coast to coast runners have.
I usually end my runs by having a swim in the Atlantic. But I kept from doing so today, it was enough just to dip my feet in the water because the beach off Joe Moakley Park was quite disgusting, muddy and black water.
The start line for Boston Marathon in Hopkinton. Maybe I will run the race in two years.
The peak of the day was to run the Boston Marathon course. It is super! Beautiful and lots of small towns and lakes and it almost felt as if it was 42 kilometers of downhill but of course there was also quite enough of uphill. I was received almost like a Messiah – cars honked, thumbs up all the way, people who wanted to shake hands with me and hand me money. After the finish I was invited to a real feast by two of my children Erik and Sigrid.
I was so delighted by the course that I think I'm going to run the real race in two years' time, then I will be one of the youngest in the class for 70 year olds. A good result in the Boston would really be something to be boast about.
To sum this up – my fifth coast to coast was one of the easiest. What I'm most proud of is that in spite of my age (I'm 68) I could run about 30 – 45 miles (50 – 70 km) without a single day of rest and not any injuries at all, not even any chafing. I have run an average of 34 miles (55 km) a day which is 2.5 miles (4 km) more than my last record. Good basic training but above all experience has helped me.
Tomorrow I will be just an ordinary jogger again.
Today's distance: 29 miles (47 km)
Keep on running!
---
Kändes denna post intressant och värd att kommentera går det bra här
#1 Lisa Paulos - 2016-07-25 01:39:23
Bjorn -- Well done! I met you as you headed into Ogden, IA. I was driving a red/silver mini-van. It was terribly hot and sunny. I have read your Blog every day, thanks for sharing it with me. Much of the time you were running, mu husband was riding his bike across the country, unsupported. His was a great journey, too. Not every American is boorish and Republican. Lots of us do our own epic adventures, but it certainly is not the norm. A pleasure to cross paths with you. Lisa Paulos And thanks for the English option for reading :)
#2 Tim Watson - 2016-07-25 05:56:47
Well done Bjorn! I have been following your journey from Australia! Thank you for recording it so we could follow along. I read each update every morning with my cup of coffee, and it gave me the motivation to face the day! Best wishes for your next adventure!
#3 Scott - 2016-07-25 13:57:50
Congrats on "The Great Run"
Really enjoyed the daily updates to the blog
Nice that you ran the Boston course
Hope your able to get over all these walls that Thrump will be building in the future and are able to get back into the country to run the marathon
Stay healthy and keep running .......
#4 Kevin Brzostek - 2017-11-16 17:07:54
Awesome! Well done!
#5 abc - 2019-03-18 11:52:27
Engineering as a subject combines mathematics, logic and science to find solutions to our daily life problems. Over the last few decades, engineering as a profession has seen vast expansion.
agriculture college in Punjab
engineering college in mohali
B Tech college in punjab
MBA college in chandigarh
CGC campus

---